I shall be retiring on the 31st December 2019, as yet I haven't found anybody to take over running the Bug Roadshow, so if you know anybody who may be interested please contact me.  It's been a fantastic seven years and I couldn't have done it without lots of loyal customers over the years, so thank you for supporting the Bug Roadshow!
Welcome to the Bug Roadshow website. I shall be posting news of forthcoming events and photos showing Children's Birthday Parties, School, Nursery visits, and my ever-changing creepy-crawly, bug and insect menagerie, so please visit regularly. I am based near Folkestone in Kent and cover the whole of Kent and adjacent
counties.
Barratt Homes at Hythe Library
Pair of Madagascan Moon Moths
Day Two at the Drop Redoubt in Dover
Aldington Messy Playgroup
Personal Bug Sessions
Madagascan Moon Moth
I was pleased to receive this letter from a satisfied customer the other day. "Henry is always talking about you and says he aspires to be like you when he grows up and that he wants to work in the reptile house at Wingham wildlife park during the week and do bug parties at the weekend!" You don't realise what effect you have on people until you get feedback like this!
Henry's letter
Emilia's Birthday Party
Flossies Birthday Party
Kent Wildlife Trust's Romney Marsh Visitors Centre
Old Park Hill Nature Reserve
Cuxton Halloween Party
Olivia's Birthday Party
Carmen's Birthday Party

5th Dover Brownies.
Giant Atlas Moth
Eastry Brownies
Henry's Birthday Party
Whitfield and Aspen Primary School Winter Fayre.
Cuxton Halloween Party

Hawkinge Brownies.
New Romney Country Fayre.
Kent Show
Honour and Oscar's Birthday Party
Whinless Down Heritage Day.
Westgate Parks Bat and Moth Night.
1st Sturry Cub Scouts.
River Cub Scouts


Brogdale Mini-beasts day.
Edward holding my Brahmin Owl Moth.

Leaf Insect
Ivey's Birthday Party
 Amber and Giant Atlas Moth
Hawkinge Fun Day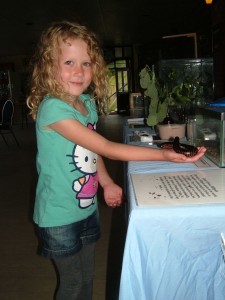 Dover Rugby Club Fun Day

Rock pooling at Samphire Hoe

Horse-head Grasshopper

   Birthday Party
Madagascan Hissing Cockroach and Stick Insect shedding their skins.
Giant Atlas Moth cocoons and moth emerging.

Locust shedding skin.





All of my bugs are harmless (apart from the Scorpion) and safe to handle. During the visit you'll have a chance to get up close and personal with these amazing creatures. 
Read the testimonial section to hear what other people have written about their experiences with The Bug Roadshow. 
Browse through the pictures in the galleries to see what I can offer.
Madagascan Bull's Eye Moth larvae